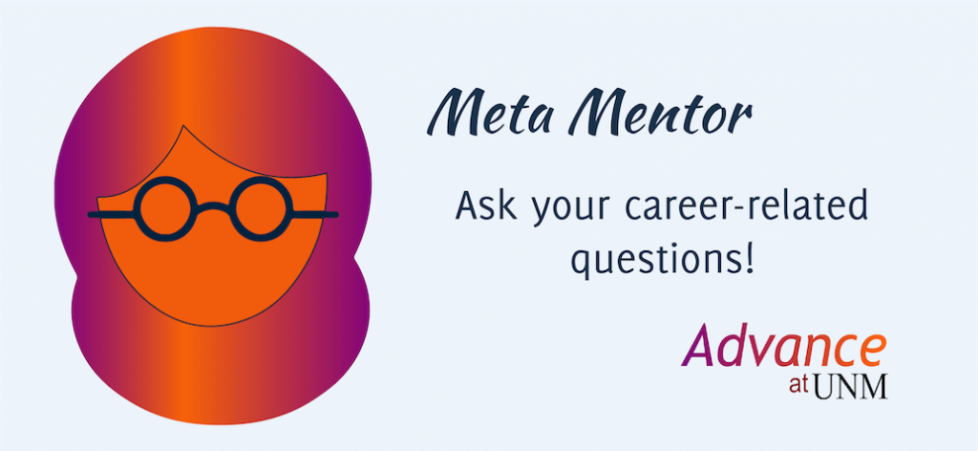 META MENTOR
Need advice on your tenure or promotion file? Help managing a conflict with a colleague in your department? Tips for writing a letter of recommendation? Meta Mentor is here to answer your questions about life in academia. Meta Mentor is a group of experienced UNM faculty, but you can think of her as a knowledgeable and trustworthy senior colleague.
Submit your questions (you can do so anonymously) here. Stay tuned to this page for your answer. If you submit anonymously, we'll need contact info if you wish for us to let you know we've replied.


I am a faculty who has two little kids going to the Children's Campus. UNM Children's Campus is usually closed on the Thursday-Friday immediately before the academic year begins for professional development. These two days are very important for faculty and students prepare for the new academic year. Having no child care, parent faculty and students spend these two days taking care of kids. I wonder if the professional development days at UNMCC can be reorganized or rescheduled or refactored in ways that avoid a full closure of the child care center?
Dear Meta Mentor,
I'm having trouble navigating all the administrative processes in my department. It seems to take forever to get approvals to complete purchases or spend money on other things that I need to do for my research. Even with my department admin's help, I'm spending tons of time on these tasks. How/where do I get help?
— Drowning in red tape, June 22
Hello "Drowning" and thank you for writing. We have meetings set up to develop a process to deal with situations similar to yours, which we know affect a lot of faculty. We expect to update you in mid September.
Meta Mentor
Update, March 28, 2017
Since we posted the question about spring break from "Mother of Dragons" earlier this month, we have some new information for you.
We have found out that UNM a few years ago moved its break to align with the APS break, but that when APS started PARCC testing, district officials moved the APS break to accommodate the test schedule.
We have been told that the acting president's office would endorse any schedule that satisfies UNM's business needs, doesn't negatively impact students and pleases the majority of faculty and staff. The issue also may be explored through the Faculty Senate and Staff Council.
Calendar changes take a while, but we plan to meet with UNM leaders to continue working on this issue. We'll let you know of any updates.


Dear Meta Mentor,
How can I advocate to help make my university more family-friendly without upsetting the senior faculty / administrators who will oversee my tenure and promotion?
For example, UNM does not have the same spring break as APS, this means that I have to hire childcare so that I can teach while my kids are on break and we can't leave town for our break because my kids are in school. It's an expensive mess.
Additionally, other universities have institutional subscriptions to websites that provide vetted babysitters to help their working parents get coverage when needed (sittercity.com for example). Does UNM have such an affiliation? There are easy solutions to these problems that would help make life for working parents at UNM a little easier, but how can I push for these without stepping on toes politically? Thanks!
— Mother of Dragons, PhD, Jan. 27, 2017

Dear "Mother of Dragons", "Minor Problems" and everyone else who has contacted us to express frustration about non-aligned Spring Breaks,
The Meta Mentor knows your pain and frustration. It continues as your kids progress through college and are home at random times, although at that point you can let them do their own thing. But your desire to spend time with your kids never abates!
We're going to address two different aspects of the issues around the Albuquerque Public Schools (APS) and UNM Spring breaks.
The Institution
The Spring Break issue is of high importance to many assistant professors, who have pointed out that they don't feel safe trying to work on this issue pre-tenure. That's one role ADVANCE at UNM can play. As you identify issues that impact your work and quality of life – tell us! We'll do what we can for issues related to faculty life.  
One important thing to remember about Spring Break is that this problem impacts faculty, staff and students who have kids. Campus productivity plummets during the APS Spring Break as everyone scrambles to cope.  If you are new to the campus, you might be surprised by the number of student parents in some of your classes. Several UNM presidents ago, there was a short-lived agreement between the APS superintendent and the UNM president to align Spring Breaks. Therefore, alignment is difficult but not impossible. We'll look into why this agreement didn't last and discuss this topic with the acting president.
One contributor suggested that some institutions have a membership to sittercity.com or other services, as a faculty and staff benefit. Please send the names of institutions who have done this (send them anonymously through the Meta Mentor link). The more examples we have, the stronger case we can make in discussions with HR and Academic Affairs.
UNM does have a policy on minors on campus.
Section 8 of this policy addresses faculty, staff and students bringing their children to work or class. You are allowed to do this occasionally (not in place of regular child care) and there are a few reasonable provisos. If your child can sit quietly in the back of your class and color, read or play a computer game then you can bring them if you need to.  They are not allowed in hazardous areas, which may include your lab, depending on the type of research you do and their age.
Tips for surviving and hopefully enjoying Spring Break this year
Start by remembering to be sympathetic to staff and students who have the same issues. Then proceed to ruthlessly (and quietly) exploit the flexibility inherent in being a faculty member. We, at best, are offering only partial solutions here, take time to figure out what can work for you. Yes, the APS Spring Break will be stressful, but maybe you can also have some fun.
Start by viewing UNM's Spring Break as a time to get some important work done.
If the kids are in school, can you stay home where it is quiet and make progress on an article, grant proposal or book chapter? Finally find time to do that data analysis? Read the articles you need to be familiar with for a literature review?

If you are doing fieldwork or lab work, is this a good time to spend some uninterrupted time with your grad students?

Build in some rewards (Lunch or coffee with a friend? A walk in the foothills? A visit to a museum?) and maybe some family time. Maybe an evening or two can be more relaxed if you aren't frantically working on a lecture for the next day. Maybe you can do something fun during the first weekend of our Spring Break (because we'll all be spending the second weekend catching up on the things we didn't get done that week!).

In short, set an achievable goal and make a plan!
Ok. You have a plan to get some work done and have some family time during UNM's Spring Break. Now, make a plan for your kids' Spring Break. Include time for you to have some fun with them. You earned it! Obviously some of these suggestions are too late for this year, but you can think about them for next year.
Your mantra: It is ok if you aren't around the department as much as usual for one week. It is ok if you aren't around the department as much as usual for one week. It is ok if you enjoy spending time with your kids.
Can you arrange your schedule to have a morning or afternoon to take the kids to the zoo, a movie, a park, a museum?

Can you share a babysitter with a colleague?
Depending on your classes and teaching load:
Does it make sense to give a test and trade favors with a colleague or grad student to have them proctor it?

Does your class have an end-of-semester paper, project or group effort? Can you give them a class period as library time or time for groups to work?

Is there a museum exhibit (maybe even on campus) that you can ask them to visit and write about at some point during that week, in lieu of a class?

Can you trade with a colleague and guest lecture in each other's classes so you each get a day "off"?

Can you do some work at home and allow the kids to watch cartoons and videos or play games for longer than you normally allow?

Can you cancel office hours for that week and add extra hours the week before and after, or the next time there is a test?

Can you bribe your kid to sit in the back of your class and behave?

Allow yourself some flexibility to think about that week differently than other weeks of the semester.

Please pass along other ideas and we'll keep adding to this list!
There are a range of programs available during the APS Spring Break, including on campus. Many of these fill quickly and might not be available now. However, we'll remind you about this list next Fall before they become open.
We've compiled a list of spring break camps that look so fun that we'd like to go. Please let us know if we've missed your favorite! Also, it's none too early to look for summer camps as well. Many of the places listed also will entertain your darlings while you try to focus on work this summer. One that caught our eye is the summer Farm Camp at the Los Ranchos Agri-Nature Center.
Engineering for Kids: is your kid interested in learning code? What about Minecraft Edu? EFK has classes for budding techies.
Keshet These spring break summer dance camps are for girls and boys.
Explora Have a scientific student? Explora is your place.
Explora also will offer a Public School Vernal Holiday camp on April 14. (Good Friday)
Your child can't get enough of the zoo and the bio park? Check out this city spring break camp, where students tour the educational facilities downtown. (The zoo, aquarium and botanical gardens all have summer camps that are in high demand.)
Albuquerque Academy offers spring break camps, as does Sandia Prep.
UNM's Continuing Education also is offering a variety of spring break camps this year, from yoga and acting to painting with pastels.
Good luck – particularly those of you with three Spring Breaks to cope with! Please share additional suggestions and we'll keep updating our lists.


Meta Mentor
Dear Meta Mentor,
I want to apply for grants and have different ideas about research projects. Who on campus can help me figure out which funding opportunities suit my interests?"
— STEM faculty member, Jan. 22, 2017
Great question! The Faculty Research Development Office is the place to start. It's part of the Office of the Vice President for Research (OVPR). Some of the office's staff are "embedded" in the colleges while others work across the main campus. The office supports faculty in developing proposals for external funding as well as help to implement research initiatives within colleges and across the UNM main campus.
For proposals, the FRDO will help faculty:
–Identify funding sources
–De-mystify funding solicitations
–Facilitate planning meetings
–Find potential collaborators in other departments/colleges
–Develop budgets
–Create and route Cayuse records (UNM's internal approval process)
–Edit/proofread proposal drafts
–Gather and format ancillary documents (e.g., letters of support and biosketches)
–Upload materials into funding agency portals
–Consult on broader impacts and outreach
The office doesn't submit proposals to agencies; that can only be done by the Office of Sponsored Projects .
To request assistance, go here and click on "Request Support." The system will automatically route your request to the appropriate person assigned to your college and you will be contacted within one working day. Other contact info is available on the office's website.
If you have additional questions, you can email the office at frdo dot unm dot edu.
Meta Mentor
Dear Meta Mentor,
How can I keep my classroom environment inclusive and civil, in spite of the tensions created by the recent election?
— STEM faculty member, Nov. 29 2016
Many faculty members have asked for guidance about how to navigate the range of student reactions and emotions triggered by 2016 presidential election. Even faculty with many years of experience have found the post-election campus climate to be challenging.
We've gathered some tips that may help you maintain an inclusive and civil classroom. They include:
1. Remember that you are the leader in your class and students look to you as the example.
2. Throughout your courses, present alternative perspectives in your own lecture. Make the best case for each point of view, even when they contradict your own personal beliefs.
3. Encourage students to express their opinions while being respectful of others' rights to do the same.
4. Inform students that education involves exposure to different positions, and that if we are all trapped in our own echo chambers or filter bubbles (including on social media), we will not grow and learn. Diversity is good for decisionmaking, and ideological and political contestation is what makes democracy work.
5. Before starting any discussion, let students know the ground rules, such as waiting for one another to finish speaking, keeping voices in conversational tone, and avoiding name calling and personal references.
Several organizations and universities have additional tips for educators to consider.
The Center for Research on Learning and Teaching at the University of Michigan offers excellent "guidelines for discussing difficult or controversial topics," which include:
— Identifying a clear purpose
— Establishing ground rules
— Providing a common base for understanding
— Creating a framework for the discussion that maintains focus and flow
— Including everyone
— Being an active facilitator
— Summarizing discussion and gathering student feedback
In addition, the Michigan website addresses how to handle issues that involve the instructor's identity.
In "10 Ways to Encourage Civil Classroom Conversation on Difficult Issues" from the New York Times, author Katherine Schulten provides ways to encourage students to talk about divisive issues.
Among them:
— "Create classroom rules and structures that support respectful and generative discussion, online and off.
— Read and discuss articles that explore the problem of a divided America.
— Practice empathy.
— Back up statements with evidence and sources.
— Listen better, and ask genuine questions that seek to help you understand rather than judge.
— Consider why 'us and them' is so ingrained in who we are."
The Faculty Development and Instructional Design Center at Northern Illinois University advises faculty to be "proactive," to "set an example," to "be specific," and to "be consistent":
— "First, be proactive. Establish the environment early through inclusion in the syllabus and verbal announcements the first day of class. One of those announcements should be your expectation that all interactions in your class will be undertaken in a civil and mutually respectful manner.
— Second, set an example. Model respectful behavior. Students are quick to observe hypocritical behavior on the part of faculty.
— Third, be specific. Describe precisely the behaviors you expect. Be honest about your own feelings and expectations in regard to student behavior. For example, share with them any pet peeves you have about student behavior
— Finally, be consistent. Always address deviations from your expectations. And treat students consistently, as you enforce your rules."
As you embark on your discussions, please know that we are here to help guide you. Let us know what worked and what didn't in your classrooms, and perhaps we'll feature your approach in one of our next columns.
Meta Mentor